News from NDI: Nigeria's President Buhari Pledges Commitment to Democracy During Washington Visit
Sign-up to receive NDI's monthly newsletter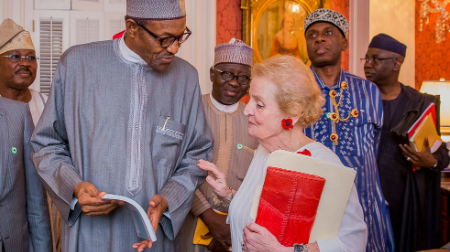 Pledging a commitment to good governance, anti-corruption, democracy and fighting terrorism, Nigerian President Muhammadu Buhari addressed a Washington, D.C., gathering July 22 during his first trip to the U.S. since his election in March.
The event, co-sponsored by NDI, came on the last day of a three-day visit that included an Oval Office meeting with President Obama and a dinner attended by NDI Chairman Madeleine Albright. The July 22 event, held at the U.S. Institute of Peace, was co-hosted by the International Republican Institute (IRI), the International Foundation for Electoral Systems (IFES), the Center for Strategic and International Studies and the Atlantic Council.
Meanwhile, Chris Fomunyoh, NDI regional director for Central and West Africa programs, joined colleagues from IRI and IFES in co-authoring an op-ed that highlighted Buhari's trip and called on the United States and the international community to pledge renewed support and continued partnership with Nigeria to further the country's democratic growth. Read more »
NDI Vice Chair Tom Daschle Calls for Greater Support to Ukraine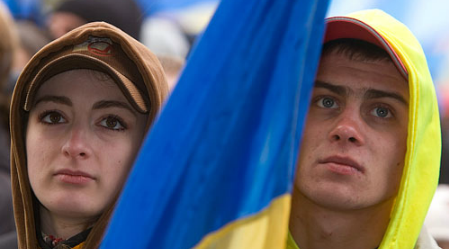 Reflecting on his recent trip to Ukraine, NDI Vice Chair and former U.S. Senate Majority Leader Tom Daschle applauded the strides Ukrainians have made in creating a more democratic society and emphasized the need for greater U.S. support for Ukraine.
"There may be no place on the globe where the stakes for democracy and freedom are higher or more reliable than Ukraine. The United States shouldn't let the opportunity pass," Daschle wrote in an op-ed for Politico Magazine.​
The op-ed also cited recent public opinion research conducted by NDI. The research found that Ukrainians remain committed to democratic values and defending the country's right to determine its own future. Read more »
Mauritanian Political Parties Put Aside Differences to Strengthen Organizing Skills
What do vegetarians have to do with political parties in Mauritania‬?
NDI recently organized a program to help Mauritanian parties develop stronger communications strategies to mount competitive election campaigns and equip women parliamentarians with the skills and experience to advocate for greater responsibility within their parties.
One of the workshops focused on creating a communications plan for a fictional "Vegetarian Party" to allow participants to practice their messaging skills in a neutral setting. Read more »
Journal of Democracy Features Elections Article By NDI Expert Pat Merloe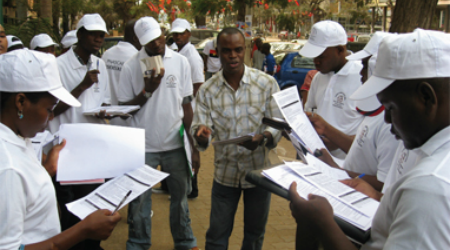 ​Authoritarian push-back against democratic development is a significant challenge in today's world. The July issue of the Journal of Democracy shines a light on this challenge by featuring an article by Pat Merloe, NDI's senior associate and director of election programs.
The article, titled "Election Monitoring vs. Disinformation," focuses on the challenge posed to credible citizen election monitors and international observers by authoritarians who deliberately derail the democratic process.
Merloe describes attempts by autocrats to mislead citizens and the international community about their electoral corruption, including the use of government-backed "zombie" election monitors, whose purpose is to confuse and obscure credible monitoring efforts with fake narratives about the election process. Read more »
Voters are Committed to Democracy in Burkina Faso Ahead of October Elections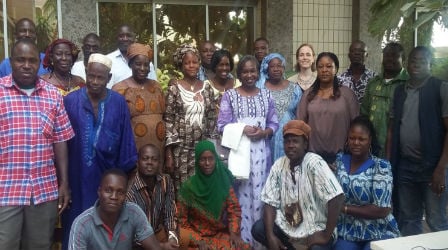 In the run up to Burkina Faso's first ever multiparty presidential and legislative elections on Oct. 11, voters are most concerned about their daily economic and social well-being, according to focus group research conducted by NDI.
Voters also revealed that they want to contribute to the democratic process alongside their elected leaders and take an active role in the country's reform process. Read more »
Keeping Election Observers Safe in Guatemala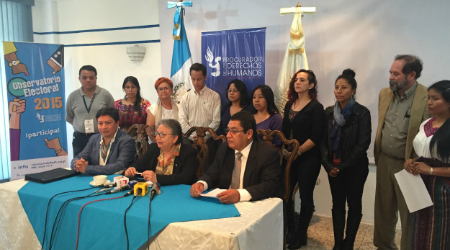 The campaign for Guatemala's Sept. 6 presidential, legislative and municipal elections is unfolding against a backdrop of ongoing protests and unrest, including intimidation and threats of violence against Guatemalan observers monitoring election preparations.
Representatives from Citizen Action, an election observation group and NDI partner; the Guatemalan Human Rights Ombudsman; and Young People (Gente Joven), Citizen Action's local partner in Coatepeque, convened a press conference in Guatemala City to denounce a recent instance of intimidation during a political rally. Read more »
Iraqi Council of Representatives Partners with NDI on Parliamentary Assistance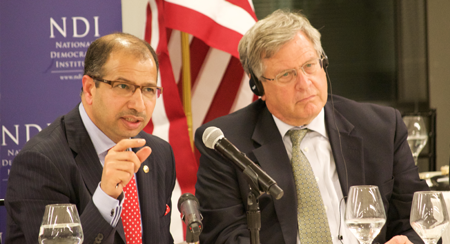 Saleem al-Jabouri, speaker of the Iraqi Council of Representatives (CoR), and a delegation of Iraqi parliamentarians and political advisers joined U.S. foreign policy and political experts June 10 for dinner and a discussion about U.S. and Iraqi politics in the lead up to the November 2016 U.S. presidential election.
During the visit, Jabouri and NDI President Kenneth Wollack signed a Memorandum of Understanding (MoU) between the CoR and NDI, pledging a continuing partnership. The MoU said that NDI will continue to work closely with the speaker's office, parliamentary institutions, elected officials and staff to assist with the development of legislative functions essential to Iraq's democratic progress. Read more »
Hondurans Debate Reforms Amid Growing Protests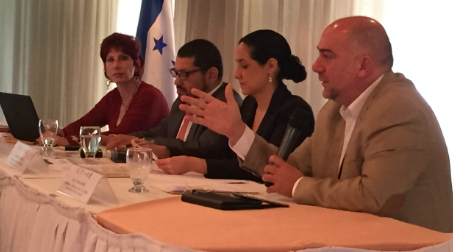 Public unrest in Honduras has been noticeable for years, particularly following a 2009 constitutional crisis that culminated in a coup removing President Manuel Zelaya from office. The 2013 elections highlighted the need for electoral reforms to instill greater transparency in the election process and the management of state agencies, and to raise voter confidence.
Against this background, NDI brought together more than 160 representatives from congress, electoral authorities, political parties, civil society organizations, academia, the international community and the media for a forum to discuss electoral reforms. Read more »
Common Principles Improve Coordination and Quality of Parliamentary Support
What does effective support to parliaments look like?
A new set of common principles, drafted by NDI, the Inter-Parliamentary Union, the United Nations Development Programme, the European Parliament and the French National Assembly, outlines nine principles on effective and efficient support to parliaments.
Endorsed to date by more than 80 parliaments and international organizations, the document is grounded in the overarching principle that successful parliamentary development must be driven by the parliamentary institution, and that parliamentary support must be inclusive of all political tendencies. Read more  »
NDI's Les Campbell Testifies on Tunisia's Democratic Transition
In congressional testimony July 14, NDI's Les Campbell, senior associate and regional director for the Middle East and North Africa, gave an update on the state of Tunisia's democratic transition.
"Tunisia's transition, symbolized most powerfully by the adoption of its new constitution and election of a new parliament and president, has moved forward in fits and starts, but remains on track, setting Tunisia apart from stalled or reversed transitions in neighboring countries." Read more »
DEMWORKS RECENT BLOG POSTS
DemocracyWorks is a blog written by staff members of the National Democratic Institute.
Donate to NDI!

Help build democratic societies around the world by supporting the work of the National Democratic Institute. Your tax-deductible donation will help bring about a more peaceful, democratic and just world.
The National Democratic Institute is a nonpartisan, nonprofit, nongovernmental organization working to support and strengthen democratic institutions worldwide through citizen participation, openness and accountability in government.