You are here
Overview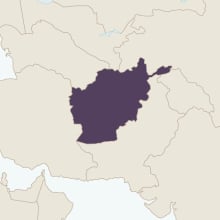 NDI established an office in Afghanistan in March 2002 and has since worked to promote the participation of civic groups, political parties, women and government bodies in the country's political and electoral processes.
Since 2002, NDI has conducted programs throughout Afghanistan to promote electoral integrity, civil society strengthening, women's political participation, youth engagement, political party development and democratic governance. While political organizations and civil society groups have made some progress in advancing democratic and political processes, more needs to be done to protect the gains Afghanistan has made in democratic governance, political pluralism, and the protection of human rights, especially the rights of women. 
Currently, NDI is conducting programs to strengthen civic participation in the electoral process, including data-driven citizen oversight and election monitoring of the 2018 and 2019 elections. The Institute has engaged civil society groups, candidates and their poll watchers, the Independent Election Commission, and the Independent Electoral Complaints Commission to conduct this program. NDI also maintains AfghanistanElectionData.org to make election data more accessible and promote accountability and transparency in the electoral process. NDI has offices in Kabul, Balkh, Herat, Kandahar and Nangarhar.
Get Involved
NDI's work upholds the idea that democracy is a human right – a principle enshrined in the Universal Declaration of Human Rights. But it's a human right that many around the world still struggle to attain. You can be part of the solution. Join the movement for democracy.