You are here
Overview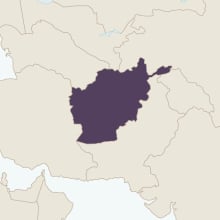 NDI established an office in Afghanistan in March 2002 and has since worked to promote the participation of civic groups, political parties, women and government bodies in the country's political and electoral processes.
This work has taken place in the context of a difficult transition from Taliban rule to new democratic institutions. While political organizations and civil society groups have made some progress in advancing democratic political processes, more needs to be done to protect gains Afghanistan has made in democratic governance, political pluralism and the protection of human rights, especially the rights of women.As the country's National Unity Government tackles political and electoral reforms and prepares to conduct long delayed parliamentary elections, Afghan civil society and political groups need to be fully engaged in the reform process. NDI is supporting the work of Afghan civil society organizations to hold forums and dialogues that bring together civic groups, political parties, government bodies and election authorities on these reforms.
Get Involved
NDI's work upholds the idea that democracy is a human right – a principle enshrined in the Universal Declaration of Human Rights. But it's a human right that many around the world still struggle to attain. You can be part of the solution. Join the movement for democracy.