Liliana Pechene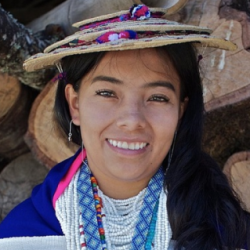 Liliana Pechene
Why did you become politically active?
I was inspired by the idea of collective conscience. In today's world, the modern system has turned us into materialistic and individualistic beings. Some of us struggle to exist in community, convinced that we are not "work units" but beings that need others to live, feel, learn and build. That is why my struggle is to rebuild this idea globally and in my community. We live in a world with a large cancerous tumor and it is only possible to survive with the medicine of the collective conscience for common cultural and spiritual purposes. This is what makes us grow as people and as a collective; only from there can we achieve peace.
---
Liliana Pechene is a leader of the Misak people, and she currently lives in the Chiman Zone Ancestral Territory in the Municipality of Silvia, Cauca, located in the southwest of Colombia. She is the daughter of tenant farmers – in fact, formerly slaves of Spanish and Colombian landowners. Liliana has served as a millennial authority in her community for six years, holding the position of zonal secretary since 2003. She has also served as part of the Popular Consultative Committee in Silvia, Cauca; the Misak Victims Process Coordinator; the National Auto Coordinator for the Nu Nuchak Safeguard Plan; Coordinator of the Faculty of Misak University and mayor of her community in 2017. Liliana has studied communications at Deutsche Welle in Germany, and is an expert in indigenous law, human rights and international humanitarian law. She works in cooperation with the Carlos III University of Madrid, Spain, which supports the processes of collective struggle for the rights of indigenous peoples in Europe, Southeast Asia and Latin America.