Join the discussion this Friday, Nov.7 at noon for our upcoming event "Advances and Challenges in Party Assistance," featuring former Governor of Vermont Howard Dean.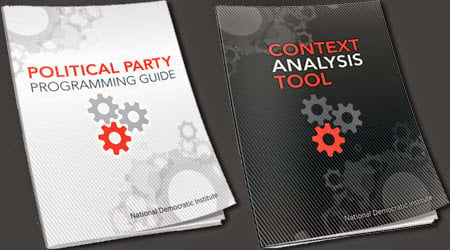 NDI launched a toolkit this week to help organizations that work with political parties to better analyze party behavior, design more strategic interventions and improve the management of party assistance programs.
The launch comes amid a shift in the international community toward greater support for political party development. Organizations that work with political parties -- such as NDI -- are undertaking larger, more complex programs that require more  persistent engagement than ever before. These programs take place in increasingly more complicated, diverse and challenging contexts, including conflict prone environments and low infrastructure settings.
NDI's toolkit is "well-informed by the lessons of extensive practical experience," said Thomas Carothers, vice president for studies at the Carnegie Endowment for International Peace. "[It is] certain to be useful to practitioners and party activists everywhere."
The toolkit is built around the will, space, capacity framework, which NDI developed to provide a structured approach for examining key factors that influence political party behavior. The framework is made up of three components:
Political will: the incentives that influence political parties and the individual actors within them;

Political space: the environment in which political parties operate and how they interact with it; and

Capacity: the skills and resources that parties need to compete in elections, propose policies and contribute to governance.
Written to help party assistance providers in challenging environments, the toolkit is intended to facilitate a more nuanced understanding of parties and the incentives that help shape party behavior.  
"When working in the field, and especially in challenging environments, it is important to step down off the carousel of trainings and consultations and reflect on the bigger picture" said Ancuta Abrudan, NDI's resident senior program manager in Pakistan. "The toolkit contains the latest methods and techniques that practitioners can use to assess our impact and make our work more efficient."
The toolkit includes a Political Party Programming Guide and a Context Analysis Tool.  These publications incorporate NDI's expertise in party assistance, as well as the latest innovations in development aid.  The programming guide includes examples of how civil society pushed for political change in Burkina Faso, how public opinion research helped to make the case for party reform in Iraq, and how leadership buy-in helped advance party reform in Peru.  
Together these two publications:
Explain the functions through which parties fulfill their representative roles in democracies;

Outline which principles and core competencies parties need to fulfill those roles democratically;

Describe three key drivers that can be used to better understand party behavior and prospects for more democratic behavior; and

Provide tools to help party assistance providers analyze diverse political, social and economic contexts, design effective assistance programs and improve monitoring and evaluation.
For more information and to watch a brief video overview of the toolkit, please see: www.ndi.org/wscf.  If you have any questions, please email [email protected]. 
Published Oct. 10, 2014