Overview
Careers at NDI can take you around the world. With programs in nearly 60 countries and a staff of nearly 100 nationalities, the Institute offers opportunities to grow within the organization, and to learn from the diverse experience of our international staff.
NDI's success is a result of the passion, ingenuity, and commitment of our employees worldwide. Our staff of approximately 1,200 works with people across the globe to support and strengthen democratic institutions and practices - helping citizens to monitor their elections; training youth and women to take their first political steps; and assisting parliaments, political parties and civic organizations to instill more transparency and accountability in government.
We support our staff at headquarters and in the field in growing their knowledge and developing the skills to be leading international development professionals. Our professional development program advances staff members' technical and managerial knowledge and skills, facilitates professional networking, and supports overall growth. The program includes online courses, a mentorship program, in-house training, staff lunches, and topical workshops.
If you believe, as we do, in the indispensable role that democracy plays in improving social and economic well-being and safeguarding human rights, consider a career with NDI.
Employer of National Service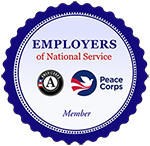 President Obama launched Employers of National Service to recognize the valuable skills gained by the 900,000 Americans who have participated in AmeriCorps since 1994 and the 215,000 who have participated in the Peace Corps since 1961. As an Employer of National Service, NDI is committed to providing national service alumni with opportunities to apply their skills in the workplace. NDI places a premium on the type of dedicated, highly qualified, and mission-oriented potential employees exemplified by national service, so please mark the check box in our on-line employment application if you have served with the Peace Corps or Americorps.
EEO EMPLOYMENT
NDI welcomes and supports a diverse, inclusive work environment. As such, our commitment is to promote equal employment opportunities (EEO) for all applicants seeking employment and employees. NDI makes employment decisions based on organizational needs, job requirements and individual qualifications without regard to race, color, religion, sex, national origin, age, disability, marital status, sexual orientation, personal appearance, military status, gender identity or expression, genetic information, political affiliation, educational status, unemployment status, place of residence or business, source of income, or reproductive health decision making. Additionally, harassment or discrimination based on these characteristics will not be tolerated at NDI. Reasonable accommodations are available to qualified individuals with disabilities and qualified individuals who have limitations due to pregnancy, childbirth, breastfeeding or medical related condition.