You are here
Overview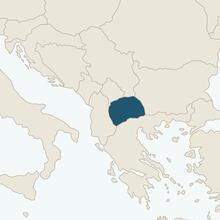 Macedonia became independent in 1991 as Yugoslavia disintegrated. The one republic not to witness or otherwise engage in the wars of the 1990s, Macedonia nevertheless faced existential issues. Chief among them have been Greek objections to its constitutional name, which has prevented Macedonia from advancing toward European Union and NATO membership. Macedonia saw interethnic conflict between majority Macedonians and a sizable ethnic Albanian minority in 2001. More recently, the country of two million was thrown into turmoil over allegations of government misconduct in the judiciary, public administration, media, and election processes. Extraordinary parliamentary elections coupled with international mediation in 2017 has permitted a new government to take office.
Macedonia's democracy agenda at present consists of making public institutions more transparent and accountable to the public and reconfiguring political discourse to be more inclusive and less partisan. NDI's programming in Macedonia, started in 1993, supports pluralism. NDI's work in parliament has created public hearings, constituency services, and improved legislative research to enable parliament to represent constituents, pass more informed legislation, and scrutinize the work of government. With technical support from the U.S. Congress' House Democracy Partnership, NDI has helped to create a flagship legislative research, training, and library body within parliament. The Institute has helped issue and constituency groups advocate for legislative change before parliament.  NDI support to mainstream Macedonian and Albanian political parties includes the promotion of women and youth leadership, public policy capacity, and public opinion research. NDI has engaged in voter education and, with a leading civic group MOST, citizen-based election observation. NDI has piloted candidate debates and televised public affairs discussions that gather government and opposition representatives, civil society leaders, and issues experts across ethnic and partisan lines. And the Institute is helping some of Macedonia's most vulnerable groups, among them citizens who are Roma and LGBTI, organize to be heard.
NDI programs are supported by the U.S. Agency for International Development, the National Endowment for Democracy, the Swiss Agency for Development and Cooperation, the British Foreign Commonwealth Office, and the Ministry of Foreign Affairs of the Kingdom of the Netherlands.
Get Involved
NDI's work upholds the idea that democracy is a human right – a principle enshrined in the Universal Declaration of Human Rights. But it's a human right that many around the world still struggle to attain. You can be part of the solution. Join the movement for democracy.