Most Iraqis are moderately upbeat about gradual improvements in security, education, health care and other basic services in their country, but concerns about employment temper the public's optimism, according to recent public opinion research. In addition, sectarian divisions remain a major source of concern and a defining characteristic of Iraqi public opinion.
The research, commissioned by NDI, was designed to help Iraqi political parties develop policy proposals and communications strategies that reflect the needs and interests of their constituencies. The survey, conducted Oct. 25 - Nov. 2 by research firm Greenberg Quinlan Rosner, was comprised of 2,000 face-to-face interviews and based on 16 focus groups.
The research points to an opening for issue-based politics in Iraq. Instead of continued appeals to ethnic or sectarian divisions, it shows the public is looking for politicians who deliver on campaign promises for improved jobs, economy and education.
In addition to a mixed view on the direction of the country, the poll found: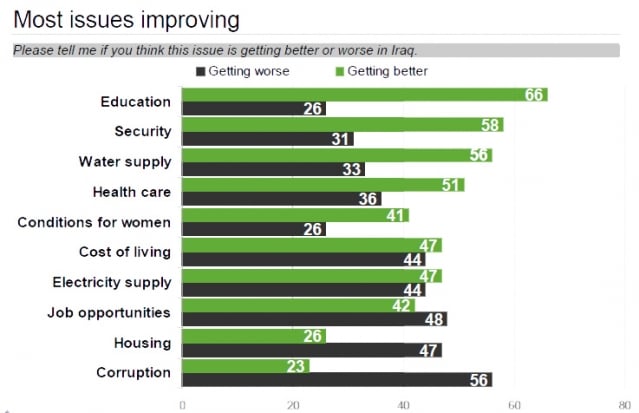 Click on the chart to see it larger
A strong majority of Iraqis believes that democracy has the potential to improve their quality of life and access to basic services. However, 56 percent see corruption as getting worse and perceive politicians as more focused on their own interests than on the needs of the public.
More than 51 percent see improvements to basic services such as education, security and health care but identify unemployment as the most important problem that the government needs to address. Sixty-six percent say education is getting better in the country, but 48 percent see job opportunities and unemployment as getting worse.
Still, a majority are optimistic about their personal finances, with 48 percent thinking their own household's financial condition will improve over the next year, compared with 26 percent who think their finances will get worse. The confidence is particularly high among Kurds and Shi'a.
Many Iraqis express a desire for politics to move past sectarian divisions, but they continue to see their country and leaders through a sectarian lens. For example, no prominent politician has significant support from more than one sect; a majority of Sunnis give former Prime Minister Ayad Allawi favorable ratings, while most Shi'a look favorably on current Prime Minister Nouri al-Maliki. In focus groups, however, a large number of voters express a desire for the country's leaders to move past these divisions and to focus on solving economic and security problems.


Click on the chart to see it larger

In a series of briefings in Iraq, advisers from NDI and Greenberg Quinlan Rosner met with party leaders to present nationwide and party-specific results. Participants used the findings to assess the mood and perceptions of average Iraqis along with those of current and potential supporters. Advisers and party leaders also discussed ways to incorporate research into effective messaging and communications strategies.

Read a full report and view the presentation.

Related:

Pictured above: Iraqi poll workers practice election day procedures during a simulation.

 

Published January 4, 2011