Inspired by the belief that Nigeria's greatest resource is its youthful population, a foundation sponsored by the musician 2face Idibia and a prominent youth organization, the Youngstars Development Initiative, have unveiled a nationwide youth get-out-the-vote campaign to encourage a peaceful process surrounding the country's general elections next February.
2face, considered a music icon, has noted that young people are often used to commit violence. The campaign's slogan, "Vote Not Fight: Election No Be War," urges politicians not to use youth to commit acts of violence or political hooliganism before, during and after the elections. By informing youth about their civic rights and responsibilities, the campaign seeks to encourage youth to make active, positive and peaceful contributions to the elections and their communities.
"The idea is to transform the Nigerian youth into peacemakers and ambassadors in their communities for the promotion of a conflict-free environment," said 2face. "Youths have to be involved and it goes beyond elections, even getting yourself registered in a political party. If you sit down to complain it would remain just that."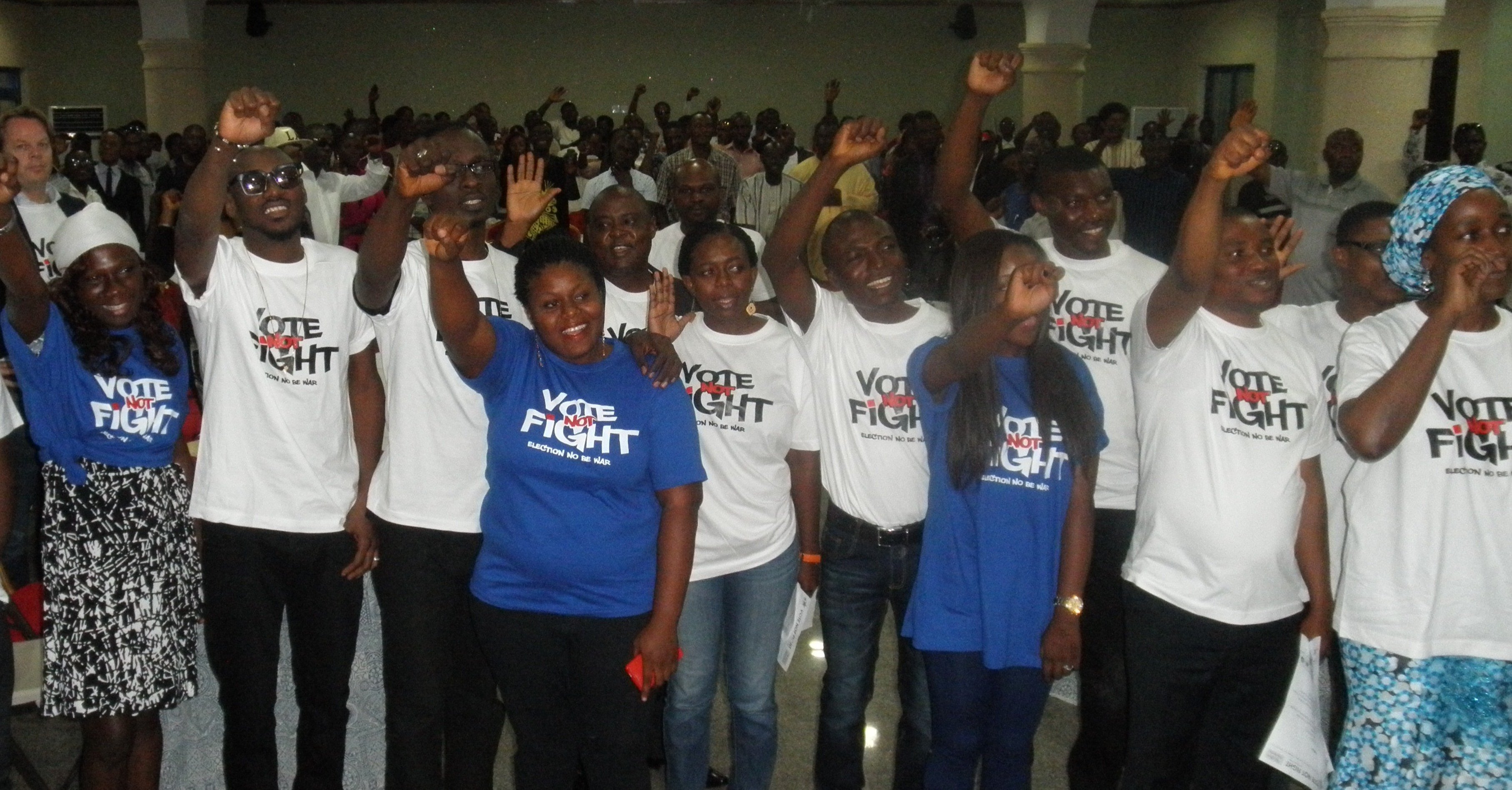 As a sign of their commitment to the campaign's goals, young Nigerians are encouraged to sign the official "Vote Not Fight" pledge: I want a peaceful Naija, therefore I pledge to vote and participate peacefully in the elections.
The campaign will feature concerts headlined by 2face, advocacy to community and religious leaders, outreach to media organizations, voter education caravans or road shows, and local festivals across the country to mobilize youth as an active voice for peace and a key voting constituency. "Vote Not Fight" events are planned for Lagos, Gombe, Rivers, Benue, Enugu and Kano states with an emphasis on areas where election violence is likely.
The campaign has received broad international support, including technical assistance from NDI and funding from the U.S. Agency for International Development. The Institute and its partners launched the campaign Sept. 30 at the Ikeja Event Center in Lagos with representatives from the Independent National Electoral Commission (INEC), the United States Consulate, Nigerian civil society, the press, and such prominent citizens as Yemi Ransome Kuti, sister of famed musician Fela Kuti, in attendance. A second launch event in Kaduna on October 9 unveiled the campaign to Northern youth, including victims of violence during the 2011 elections.
"It's heart-warming to see youths gather to talk about the electoral process," said INEC representative Ijeoma Okey-Igbokwe. "INEC has confidence in youths, and that's why we have often worked with them."
Nigerians and members of the international community who wish to support a peaceful 2015 electoral process and youth political activism can sign on to the campaign pledge by sending a text message to the MTN number 09030000093, online at the www.votenotfight.org website, or through the Vote Not Fight Facebook page. Pledge cards will also be distributed at each of the campaign events. U.S. Ambassador James Entwistle has already signaled the international community's support; a video recording of the ambassador taking the campaign pledge was shown during the launch events.
2face -- who is known for such hit songs as African Queen and My Rainbow -- will mobilize youth to participate in the campaign at concerts, pledge signing events and media appearances that he and his foundation will organize throughout Nigeria. He composed and released a new single in support of the campaign, which debuted at the campaign launch. The single, Vote Not Fight NOW!, combines reggae beats, Afro pop, and an appeal for peace during the upcoming elections. 2face, who changed his stage name to Tubaba last July, is known for his nonpartisan approach to politics and for his activism on behalf of peace and Nigerian youth.
The campaign evolved from a two-day retreat organized by NDI in August, during which representatives of 12 youth groups working in Nigeria's six geopolitical zones met to discuss major youth issues in the 2015 electoral process. Participants noted that youth who felt marginalized by the mainstream political process were influenced to take part in acts of electoral violence during the 2011 national elections.
Since the retreat, the 2face Foundation and Youngstars have reached out to civic groups and media outlets pursuing similar objectives during Nigeria's upcoming elections. The BBC Media Trust Fund, a coalition of young Nigerians promoting good governance known as Enough is Enough, and Nigeria's leading urban culture television channel Hip TV are among the organizations that have agreed to coordinate voter education and youth outreach efforts with the "Vote Not Fight" campaign.
Through the "Vote Not Fight" campaign, the 2face Foundation and Youngstars Development Initiative hope to launch a nationwide movement that will enable youth to advocate for peaceful political participation during the 2015 electoral process.
Read More:
Published: Oct. 21, 2014