You are here
Overview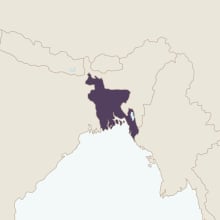 The Institute has mobilized international observation missions for the country's 1991, 1996, 2001 and 2008 national elections. In addition, NDI assisted Bangladeshi monitoring groups that organized domestic observation activities for the 2014 parliamentary elections and subsequent upazila (sub-district) polls. NDI helped establish the Bangladesh Alliance for Women Leadership (BDAWL) to help the next generation of women leaders rise to senior positions within their respective fields. The Institute has also supported forums that brought together senior and next-generation parliamentarians, government leaders, election officials and civil society representatives on political reform issues.
To promote open political discourse, NDI is currently working in partnership with Bangladeshi youth-led groups to facilitate dialogues with civil society and major political parties on key public policy and reform issues in advance of 2018 parliamentary elections.
Get Involved
NDI's work upholds the idea that democracy is a human right – a principle enshrined in the Universal Declaration of Human Rights. But it's a human right that many around the world still struggle to attain. You can be part of the solution. Join the movement for democracy.