You are here
Overview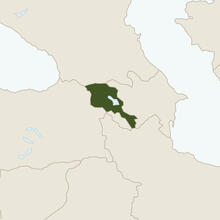 2018 marked a year of significant political change for Armenia. After weeks of protests, decade-long ruler Serzh Sargsyan resigned. Protest leader and opposition parliamentarian Nikol Pashinyan was then elected Prime Minister. With promises to fight corruption and improve economic conditions, the prime minister's My Step alliance swept the December 2018 snap parliamentary elections. The political transition presents Armenia with an unprecedented opportunity to strengthen democratic institutions and practices.

NDI has conducted Armenia programming since 1994, with a focus on supporting political parties to develop youth wings, improve campaign and outreach skills, build cross-party alliances and launch local initiative projects. Since 2018,  NDI has been working closely with parties, parliamentary factions, and civil society partners to strengthen and sustain the momentum for democratic reforms. The Institute's efforts in Armenia are designed to support political pluralism and vigorous, policy-focused political discourse.
Get Involved
NDI's work upholds the idea that democracy is a human right – a principle enshrined in the Universal Declaration of Human Rights. But it's a human right that many around the world still struggle to attain. You can be part of the solution. Join the movement for democracy.