Hon. Charity Kathambi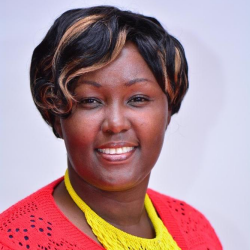 HON. CHARITY KATHAMBI Chepkwony MP
MEMBER OF PARLIAMENT FOR NJORO CONSTITUENCY, KENYA
Why did you become politically active?
I wanted to become a member of parliament to elevate the living standards of the people in Njoro. When I first visited Njoro, there were no women or youth groups, water was a big problem as a result of destruction of the environment and farmers were not using modern farming techniques. I wanted to fix all of these things. I immediately started working with the local community on a number of development projects, mobilizing women and young people to register self-help groups, organizing skills trainings for farmers and championing girls' rights – especially in education. To address the environmental degradation and water problem, I started the Beyond One Billion community-based organization. Members of this organization established tree nurseries and sold seedlings, thus earning an income while improving the environment.
---
Hon. Charity Kathambi Chepkwony is the first female member of parliament for Njoro Constituency. She made her debut in politics running for parliament in Njoro in 2013, where she finished second. As a young mother in an inter-ethnic marriage, this was definitely no average feat. All manner of propaganda was thrown her way as questions were raised about her age, gender and ethnic background. Resources were also a challenge as she was running against male candidates with serious financial muscle. Although many times she was reduced to tears in the face of all these challenges, none of it came as a surprise. Being a beneficiary of NDI's USAID-funded leadership training, Hon. Chepkwony was adequately prepared for what to expect as a woman running for office. She credits the training for giving her the confidence that she needed to run and equipping her with skills to plan and manage her campaign, handle the media and develop her brand.
Hon. Chepkwony was not deterred by her loss in 2013 and resolved to continue working with the community. She was subsequently appointed as the national director of the Kenya Literature Bureau and used her proximity to the leadership to advocate for development projects in her constituency. The 2017 general election found a much better-prepared candidate. She had a wealth of experience from 2013, which she utilized to beat her competitors and easily win the party primaries. The general elections were no different as she defeated five independent male candidates – a number of whom had defected from her party following defeat in the primaries.
As the member of parliament for Njoro Constituency, Hon. Chepkwony has her eyes focused on three agenda items: addressing the water problem at the national level and by extension in her constituency; advocating for an improved road network in all parts of the country and supporting women and youth empowerment projects. Hon. Chepkwony is already making her presence felt in the National Assembly as a member of the Departmental Committee on Environment and Natural Resources and as vice secretary of the Kenya Women Parliamentary Association.