Of the many notable panels at the International Leaders Forum (ILF), the U.S. foreign policy panel generated a great amount of interest and resulted in a packed house at the Prince Theater in Philadelphia. The panel, officially titled "U.S. Foreign Policy in 2017 and Beyond," covered an array of topics such as:
diplomacy with uncooperative nation states
the importance of U.S. foreign assistance
development of democratic institutions for enduring success
the importance of voting
women in politics
the role of the media in influencing political debate
The panel discussion included an all-star lineup of foreign policy leaders known for their expertise in U.S. diplomacy:
Madeleine Albright, NDI Chairman, former Secretary of State
William Burns, President, Carnegie Endowment for International Peace
Wendy Sherman, former Under-secretary of State for Political Affairs
Senator Jeanne Shaheen, State-Foreign Operations Appropriations Subcommittee
Representative Ted Deutch, House Foreign Affairs Committee
Laura Rosenberger, Foreign Policy Advisor, Hillary Clinton campaign
NDI Chairman Madeleine Albright opened the panel by discussing the importance of diplomacy abroad, addressing the need for a new approach to democracy that includes both economic and diplomatic levers. According to Secretary Albright, the "four Ds" of diplomacy, development, defense, and democracy must be closely interwoven for an effective U.S. foreign policy to work.
"Democracy," Albright stated, "is the most stabilizing form of government. It is not a matter of us imposing democracy on other countries, but listening to what they have to say and providing a mechanism for voices to be heard."

 
"U.S. Foreign Policy in 2017 and Beyond" panel featuring NDI Chairman Madeleine Albright, William Burns of Carnegie Endowment for International Peace, former Undersecretary of State Wendy Sherman, Senator Jeanne Shaheen, Representative Ted Deutch, and Laura Rosenberger, Hillary Clinton Foreign Policy Advisor." 
William Burns, President of the Carnegie Endowment for International Peace, noted the tentative nature of fragile states and the importance of creating lasting international relationships, "Stability in the world is not a static phenomenon. If you don't treat people with dignity, they become brittle and break."
While speaking about the facets of democracy, panelists also touched on the role of the media in uncertain political climates. Laura Rosenberger, foreign policy advisor to the Hillary Clinton campaign,stressed that "when we talk about democracy, the media play such an important role in securing an educated populous." She added that we need to communicate to our fellow citizens why we do what we do and how it makes them safer.
Foreign assistance and investing in women were two other themes probed by moderator Frank Sesno, who is currently Director of the School of Media and Public affairs at George Washington University, and a former CNN anchor.
Representative Ted Deutch (D-FL) raised the problem of perceptions among U.S. citizens about foreign aid spending: "Americans think [falsely that] we spend 25 percent of our budget on foreign aid. It's one percent, and what we get from that one percent is what we should be talking about."
Included in that one percent is the investment in women to elevate communities locally and nationally. U.S. Senator Jeanne Shaheen (D-NH) stressed that when we invest in women, they use those investments to support their families, their communities and ultimately to serve their countries.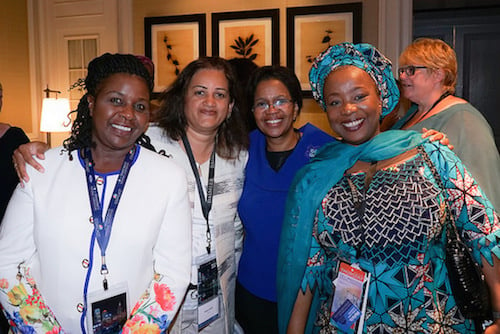 ILF brings together world leaders to learn about the state of U.S. politics and observe the Democratic National Convention. 
Nearly all panelists agreed that in the current ever-changing state of the world, authentic foreign relationships are imperative, and that while all politics are local, a robust U.S. foreign policy is crucial. In the wake of Brexit, many international guests appreciated the difficulties of keeping the U.S. public actively engaged in international affairs. They also agreed that democracy cannot function effectively without wide participation by citizens in every election.
Every four years, NDI has the honor of hosting the International Leaders Forum (ILF), a week-long series of non-partisan events for international leaders organized around the Democratic National Convention. The Forum carries on NDI's tradition of providing analysis on the current state of U.S. politics and on the foreign policy challenges that the next administration will face. The foreign policy panel was sponsored by the United States Global Leadership Coalition, in concert with NDI as part of the ILF educational program in Philadelphia.
Published on August 2, 2016