You are here
Overview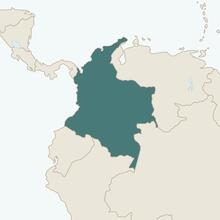 Colombian democracy has been undermined by ongoing violence generated by left-wing guerrillas as well as paramilitary groups and their successors, both with ties to the extensive narcotics industry. President Juan Manuel Santos has supported an ambitious agenda for social reform, passing a Victims and Land Restitution law in 2011 and initiating peace talks with the Revolutionary Armed Forces of Colombia (Fuerzas Armadas Revolucionarias de Colombia, FARC) in 2012. The negotiation process was concluded in December 2016 with the passage of revised accords in the Colombian Congress. In response, the Congress must pass legislation that will allow for implementation of reforms required by the accords addressing rural development, political participation, drug trafficking, amnesty and victim's rights.
NDI programs in Colombia help consolidate implementation of the Victims Law and collective victims' reparation processes and contribute to ongoing inclusion, political participation and reform processes in preparation for a post-conflict environment. NDI has worked in Colombia since 1999, establishing a field presence in 2005. NDI work in Colombia has focused on contributing to political reform processes, implementation of priority laws, party strengthening initiatives and enhancing the political participation and skills of women, Afro-Colombians, indigenous peoples, lesbian, gay, bisexual and transgender (LGBT), people with disabilities and youth. Since 2005, NDI has also worked to support transparent electoral processes and to promote a more informed electorate.
NDI's activities in Colombia are dedicated to the memory of Nevio Fernando Serna Díaz, a mayor who participated in NDI's Political Leadership Program and was brutally assassinated in May 2000.
Get Involved
NDI's work upholds the idea that democracy is a human right – a principle enshrined in the Universal Declaration of Human Rights. But it's a human right that many around the world still struggle to attain. You can be part of the solution. Join the movement for democracy.