In Georgia, communication between elected officials and their constituents is often weak. But recent reforms by the government may offer new opportunities for interaction between leaders and the public.
In an NDI poll last month, 49 percent of those surveyed said the government is not pursuing policies that matter to them, compared to 44 percent who believe it is.
As part of a recent package of reforms, the Georgian government passed legislation to help ease both the communication gap and community dissatisfaction. Citizens can now directly elect local leaders, including mayors, chief executives (gamgebelis) and local council (sakrebulo) members, in all of Georgia's 71 municipalities.
To help the office holders improve their communications, NDI launched a Local Government Program for new mayors and local council members in six municipalities: Akhaltsikhe, Batumi, Gurjaani, Kutaisi, Tbilisi and Zugdidi. Training for the council members focuses on the importance of reporting on their work with regular public outreach and communication with constituents.
The program helps them improve outreach strategies, engage citizens in decision making and establish ways for citizens to provide feedback and suggestions on legislation. Members of sakrebulos use municipal websites to share information on local policies and contact information for local elected officials. Faction leaders within the local councils have held public meetings to report on their work within the sakrebulo and outline proposals for local development. The office holders are also forming partnerships with local media and citizen groups to encourage ongoing dialogue between government and citizens.
Since the program's launch, local officials have started to follow through on their commitment to transparency and improved citizen outreach. For instance, the mayor of Zugdidi, Irakli Gogokhia, reported at a local sakrebulo meeting in February on his current work and answered questions from citizens. A week later, the sakrebulo organized another public session where council members and political groups reported on their own activities.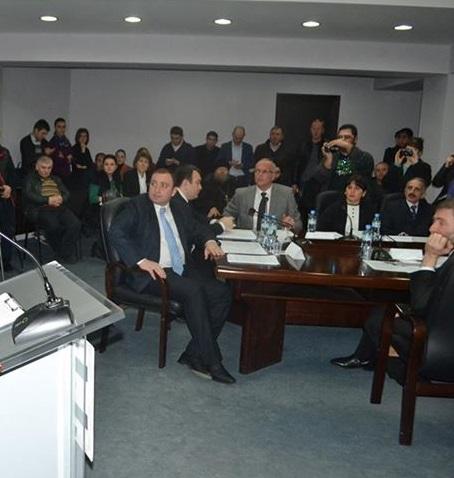 A public meeting organized by the Zugdidi Sakrebulo in February.
During the meeting with the mayor, Zugdidi council chair Merab Kvaraia highlighted new steps toward more government transparency and accountability, saying, "Our priorities are transparency, openness and sectoral cooperation. In terms of public debates and public participation, we have taken unprecedented steps, which were praised by several local and international organizations. I would like to state that we are going to stay on this path and make public participation more intense and our work more transparent."
The meetings were attended by sakrebulo factions, local civil society organizations, media and other interested parties that all had an opportunity to ask questions and engage in the discussions with the mayor and council members.
The program is funded by the United States Agency for International Development and the Swedish International Development Cooperation Agency.
Published on June 23, 2015