Maysa' M. AlHajahjah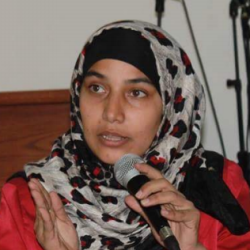 Maysa' M. AlHajahjah
Why did you become politically active?
I became politically active because I wanted to put what I had learned from the NDI Ana Usharek ("I Participate") program into practice. By providing a safe space to freely discuss political issues such as political parties, elections, the legislative process, and other issues that I couldn't discuss outside of that environment, the program helped me find my calling of working for human rights and justice. After a full year in the Ana Usharek program, I felt the need to put what I'd learned into practice. I decided to join a more advanced program and focus on advocacy. My fellow students and I called our advocacy campaign "308 Thabah'ha" or "308 Killed Her." The campaign focused on repealing Article 308 of the penal code, which allowed rape perpetrators to avoid going to jail if they married their victims. We developed and implemented a comprehensive media and communications strategy, including an appearance on a live TV show where we spoke to the public about why it was important to repeal Article 308. I was thrilled to hear that Article 308 had finally been repealed. I'm so proud to have been a part of this effort, and I'll keep working for human rights and justice because this is my calling.
---
Maysa' M. AlHajahjah is a Jordanian youth activist from Al Salt. She studied civil engineering at Balqa Applied University, concentrating on surveying and geomatics engineering. Maysas' story started when she was volunteering at the King Abdullah Fund for Development office and saw an advertisement for the NDI's Ana Usharek program. After a full year in the program, she felt the need to put what she had learned into practice. She decided to join the Usharek+, NDI's advanced student participation program, and focus on advocacy.
The Usharek+ program gave Maysa' the courage and skills to be able to discuss challenges facing her community, and pushed her to never hesitate to advocate for the rights of those who couldn't advocate for themselves. Today, after more than five years of involvement with the Usharek program, Maysa' is coaching advocacy and civic engagement for young women in her city. She is a member of "Shabab 2250," which is translating United Nations Resolution 2250(2015) – which urges Member States to increase youth participation in decision-making – into a local action plan.