You are here
Overview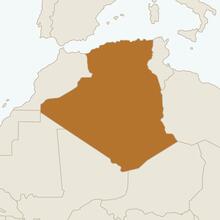 During the wave of popular protests that swept across the Middle East and North Africa in 2011, Algeria largely avoided the violence and social upheaval seen elsewhere in the region. However, following President Abdelaziz Bouteflika's February 2019 announcement of his intention to run for a fifth consecutive term in Algeria's planned presidential elections, the country saw a mass public uprising. In the weeks after Bouteflika's announcement, citizens nationwide took to the streets in record numbers in a mass peaceful protest movement dubbed the Hirak to express their discontent, ultimately driving Bouteflika to resign. Since Bouteflika's departure, Algeria has elected a new president, Abdelmajid Tebboune, who has expressed his commitment to hold a dialogue with the protesters - who continued to demonstrate in the months following Bouteflika's resignation - and has initiated a constitutional revision process. As Algeria embarks on the next steps in its political transition, citizens, decision-makers, and civil society have a critical opportunity to foster and advance more responsive, representative, and accountable governance that can elevate and improve the lives of all Algerians.
Since 1997, NDI has worked to strengthen political parties, civil society organizations, and elected officials in Algeria to better represent citizens and encourage more inclusive and representative political processes. Working alongside partners from across the political spectrum, the Institute aims to bridge the gap between citizens and the political class to build trust and foster constructive dialogue and engagement. This includes efforts at building the capacity of political parties to improve outreach efforts, enhance citizen consultations, and promote the inclusion of youth and women; assisting women elected officials to strengthen their legislative, oversight, and representative skills; equipping youth civil society activists to build their leadership competencies and enhance their community engagement; and enabling civil society groups (particularly at the grassroots level) to understand and more effectively undertake their roles in representing citizen interests and influencing political processes. The ultimate goal of these approaches is to create more opportunities for decision-makers and citizens to interact on multiple fronts, incrementally contributing to a more responsive political scene, encouraging citizen participation, and building a greater sense of accountability.
Get Involved
NDI's work upholds the idea that democracy is a human right – a principle enshrined in the Universal Declaration of Human Rights. But it's a human right that many around the world still struggle to attain. You can be part of the solution. Join the movement for democracy.