You are here
Overview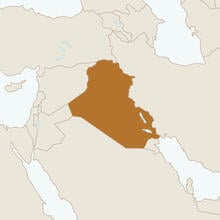 Over the past few years, Iraq has fallen victim to tumultuous change and widespread violence, much of it at the hands of the Islamic State of Iraq and al-Sham (ISIS). Prime Minister Haider al-Abadi's efforts to strengthen Iraq's fragile governing institutions and lift the country from its status of crisis hinge on broader buy-in from all Iraqis, including Sunnis and Kurds, and an increase in opportunities for ethnic and religious minorities to participate. The ability to implement many of al-Abadi's proposed reforms will depend on the effectiveness of Iraq's parliament and political parties to develop issue-based solutions to citizen priorities. In order to address these challenges, the country must continue to develop the foundation for accountable and transparent institutions, responsive political parties, and mechanisms of participation for women and minorities.
The National Democratic Institute (NDI) began working with reform-minded Iraqi politicians in 1999, and formally established its in-country presence in 2003. NDI now has training facilities in Baghdad and Erbil, where it collaborates with Iraq's political parties and two legislative bodies, the Council of Representatives (CoR) and the Kurdistan Parliament of Iraq (KPI), to promote legislative transparency and strengthen legislative capacity. NDI works with political parties to improve constituent representation and promote the political participation of women and minorities. NDI's overall programming goal in Iraq is to strengthen policy-oriented political institutions with improved professional legislative capacity, policy-based political discourse, credible oversight, citizen engagement, accountability and transparency.
Get Involved
NDI's work upholds the idea that democracy is a human right – a principle enshrined in the Universal Declaration of Human Rights. But it's a human right that many around the world still struggle to attain. You can be part of the solution. Join the movement for democracy.