You are here
Overview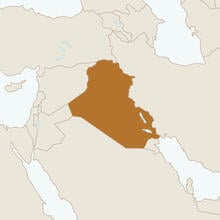 In the past year, the Iraqi Security Forces have achieved significant military victories against the Islamic State of Iraq and Syria (ISIS), including in one of the country's largest and most diverse cities, Mosul. As territory occupied by the terrorist group is liberated, support for the Iraqi Army has increased dramatically, becoming a source of cross-sectarian pride and an opportunity to unify an oft-divided country. Military gains have not been met by political reforms, including measures addressing rampant corruption and unemployment, as well as the alleviation of the humanitarian crisis which has resulted in the displacement of over 3 million Iraqis and the widespread lack of basic service delivery to the country's most vulnerable citizens. Prime Minister Haider al-Abadi's efforts to strengthen Iraq's fragile governing institutions and lift the country from crisis hinge on broader buy-in from all Iraqis, including Sunnis, Kurds, and other ethno-sectarian groups, and an increase in opportunities for ethnic and religious minorities to participate in civic life.
The ability to implement key reforms will depend on the effectiveness of Iraq's parliament and political parties to develop issue-based solutions to citizen priorities and address deep-rooted drivers of conflict to achieve peaceful coexistence. In order to address these challenges, the country must continue to develop the foundation for inclusive governance, responsive political parties, and mechanisms of participation for women and minorities in political and national reconciliation processes.
The National Democratic Institute (NDI) began working with reform-minded Iraqi politicians in 1999, and formally established its in-country presence in 2003. NDI works with political parties and Members of Parliament (MPs) to improve cross-party policy development and citizen outreach, and promote the political participation of women and minorities. As Iraqi provinces are retaken from ISIS, the Institute empowers local women activists to promote a gender-sensitive conflict transformation and gain a voice in national reconciliation processes. To promote dialogue and help develop a shared evidence base, NDI has conducted over 40 nationwide surveys and 400 focus group sessions in Iraq since 2003. Through sharing results with Iraqi stakeholders and the international community, public opinion findings serve as a foundation for understanding public attitudes and priorities and help develop key public policies.
Get Involved
NDI's work upholds the idea that democracy is a human right – a principle enshrined in the Universal Declaration of Human Rights. But it's a human right that many around the world still struggle to attain. You can be part of the solution. Join the movement for democracy.