Niamoukara Joséphine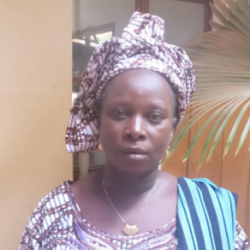 Joséphine Niamoukara
Mayor of Kiembara Commune, Burkina Faso
Why did you become politically active?
I decided to engage in politics to have more capacities and means to act and solve the problems of the people of my commune.
---
Joséphine Niamoukara is currently serving her third term as the mayor of the Kiembara Commune in the north of Burkina Faso. Joséphine is married and is a proud mother of six children. She began her journey into politics as a member of the Women's Association of Kiembara Commune and later became its secretary general. She also became treasurer of the Village Council of Territorial Management (CVGT) in 2001. In 2005, officials of the Congress for Democracy and Progress (CDP) approached Joséphine to ask her to join their political party and hold a position on the party's committee. She accepted because her involvement in the community had already put her in a position to help people. It was her first step into politics. Joséphine was elected city councilor in 2006 and was brought to the head of the municipality as mayor. At the end of this first experience, she obtained two other mandates with another party (ADF/RDA). Through her commitment to community activities, and through her experience in the CVGT as treasurer, she gained management knowledge, which has served her greatly as mayor. Joséphine also benefited from the support of organizations such as the National Democratic Institute through training on decentralization, the roles and responsibilities of the elected representative, and communication and leadership. Today, she is proud of her achievements despite not having had the opportunity for a high level of academic study. She is able to manage her commune well and maintain the confidence of her constituents.
Read Joséphine Niamoukara's biography in the original French