You are here
Overview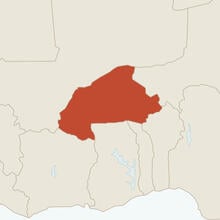 On May 22, 2016, local elections brought to an end Burkina Faso's 19-month political transition following the ousting of ex-President Blaise Compaore in 2014. Active in Burkina Faso since 2004, NDI currently works with civil society, political parties and the legislature to reinforce the country's efforts to build democratic institutions in the wake of the recent political turmoil.  NDI empowered civil society to monitor key political developments and historic elections during the transition period. For the 2015 presidential and legislative elections, NDI supported civil society to undertake two nationwide election monitoring initiatives, including the country's first-ever pilot parallel vote tabulation. NDI also assists civil society organizations (CSOs) advocating for the ongoing constitutional reform process be open and inclusive, and the Institute provided training and technical assistance to 30 youth-led CSOs to enhance youth involvement in democracy.
To bolster women's political participation, NDI engages key parliamentary committees to promote gender-balanced policymaking. NDI also supports civil society advocacy for political parties to respect the gender quota law and the government's implementation of the UN Convention to Eliminate All Forms of Discrimination Against Women.
NDI works with political parties to identify ways to increase the number, position and influence of women and youth within parties. The Institute has assisted several political parties to establish policy platforms that respond to citizens' concerns, such as youth unemployment and community development, and worked with youth and women wings to make their voices heard within the party. NDI trainings and support in the lead-up to the 2015 and 2016 elections enabled parties to deploy more than 68,000 pollwatchers.
Assessing the needs of the National Assembly and creating an institutional development plan is part of NDI's legislative strengthening program in Burkina Faso. Working with key parliamentary committees, the Institute promotes the drafting and passage of effective legislation to respond to citizen concerns in areas such as anti-corruption, fiscal responsibility, youth empowerment and gender equality. NDI assists CSOs to advocate for legislative action and to monitor the legislature, and the Institute advises media outlets on providing more balanced, accurate reporting on legislative affairs.  
Click here for more information on NDI's programs in Burkina Faso.
Get Involved
NDI's work upholds the idea that democracy is a human right – a principle enshrined in the Universal Declaration of Human Rights. But it's a human right that many around the world still struggle to attain. You can be part of the solution. Join the movement for democracy.