You are here
Overview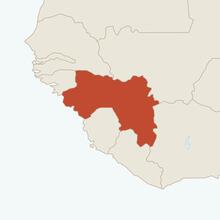 NDI's activities in Guinea began in 1998, when the Institute first trained political party pollwatchers and conducted voter education prior to the presidential election of that year. Since Guinea began its democratic transition following a military coup in 2008, NDI has supported dialogue among political parties and the peaceful conduct of elections. NDI has worked to foster dialogue between political parties at all stages of the electoral process through an Inter-Party Working Group. The Institute has supported more than 100 political parties to make commitments to a fair and peaceful electoral process through a code of conduct and supported monitoring committees that work to ensure adherence to the code.  For the 2010 and 2015 presidential elections, and the 2013 legislative elections, NDI assisted political parties in training and deploying pollwatchers. The Institute also helped strengthen the capacities of Guinean civil society organizations to monitor elections, thus enhancing the credibility of electoral processes and the acceptance of results in Guinea's highly contentious political climate.
Guinean women continue to be underrepresented in political office. NDI trained women candidates prior to Guinea's first multiparty election of its National Assembly in 2013 and leading up to local elections in 2018. NDI has also worked with youth leaders and candidates to build leadership and campaign skills.  The Institute has worked to strengthen the capacities of MPs by training them on parliamentary and legislative processes, budgeting and government oversight. To strengthen the legislative capacities and internal procedures of Guinea's young National Assembly, the Institute is also assisting the institution in increasing its internal organizational and legislative capacities, for instance through workshops with the committee for legislative affairs and working with technical experts to explore revising the Assembly's Rules of Procedure (RoP), which would allow broader participation in the legislative decision-making process.
Get Involved
NDI's work upholds the idea that democracy is a human right – a principle enshrined in the Universal Declaration of Human Rights. But it's a human right that many around the world still struggle to attain. You can be part of the solution. Join the movement for democracy.