You are here
Overview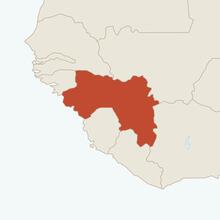 On September 5, 2021, the Guinean military, led by Colonel Mamadi Doumbouya, deposed President Alpha Condé in a coup d'etat. Condé had won a contentious third mandate in 2020 after pushing through a new and controversial constitution for the country that undermined presidential term limits and plunged the country into political turmoil. Following the coup, the junta created a leadership body, the National Committee of the Rally for Development (CNRD), released a transitional charter and installed an 81-member interim legislature, the National Transition Council (CNT). The CNRD and the appointed, mostly civilian transition government have publicly  committed to returning the country to democratic rule, but have not released a timeline. Six months into the transition, prominent political and civic actors have expressed concerns over a lack of transparency and inclusiveness of the new authorities' decision-making processes. 
For over a decade, the practice of multiparty democracy in Guinea has been contentious and accompanied by sharp political polarization. NDI has provided technical assistance to Guinean pro-democracy advocates and has maintained an in-country presence since 2010. The Institute's work focused on supporting political dialogue, election observation and the peaceful conduct of elections. NDI assisted Guinean ruling and opposition political parties to adopt a Code of Conduct, and created regional committees to monitor adherence to the code and its principles on fair and peaceful electoral processes. NDI provided technical assistance to ruling and opposition political parties to train and deploy party poll watchers during elections, and helped build the capacities of nonpartisan citizen organizations to conduct election observations and to monitor local governance and the delivery of public services. Throughout its programming, NDI has supported the political participation of marginalized groups, with an emphasis on young women active in politics. NDI has trained women candidates for political office and supports bringing more women in leadership positions in political parties, government and civil society. The Institute has also worked with youth leaders and young candidates to build their leadership and campaign skills. 
Following the September 2021 coup d'etat, NDI is providing training and technical support to civil society organizations  to participate positively and substantively in an inclusive and transparent, credible transition process. The Institute will also provide multidisciplinary experts to advise civilian-led transitional entities with a high priority on electoral and constitutional reforms and the timely holding of elections.
Get Involved
NDI's work upholds the idea that democracy is a human right – a principle enshrined in the Universal Declaration of Human Rights. But it's a human right that many around the world still struggle to attain. You can be part of the solution. Join the movement for democracy.