You are here
Overview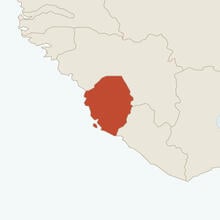 Since the end of the civil war in 2002, NDI has worked in Sierra Leone to increase citizen engagement, promote democratic political parties, enhance women's political participation and support electoral processes. NDI has collaborated with civil society organizations including the Sierra Leone Association of Journalists (SLAJ) and the Democracy Sierra Leone (DSL) civic group coalition to promote issue-based political discourse and increase citizen involvement in the political process, including women, youth and other marginalized groups. NDI's debates support for the 2018 elections builds upon its prior experience organizing debates in Sierra Leone for the 2007 presidential and legislative elections and 2008 local government elections.
In March 2018, Sierra Leoneans went to the polls for the fourth general elections cycle since the end of the civil war. NDI is working closely with civic and political organizations in Sierra Leone to implement a series of pre- and post-election activities to promote citizen engagement in the election cycle. NDI supported the Sierra Leone Debate Organizing Committee to facilitate  unprecedented issue-based presidential, youth and women candidate debates broadcasted nationally on television and radio and live-streamed online, enabling candidates to present their policy priorities and electoral platforms directly to voters.
Click here for more information about NDI's programs in Sierra Leone.
Get Involved
NDI's work upholds the idea that democracy is a human right – a principle enshrined in the Universal Declaration of Human Rights. But it's a human right that many around the world still struggle to attain. You can be part of the solution. Join the movement for democracy.