Iraqis are becoming increasingly concerned about a weak economy and poor service delivery, aggravating their frustrations with political parties and politicians. But they still believe that democracy holds the potential to improve their quality of life, and they want political parties to become more responsive to economic concerns and less focused on sectarian divisions.
They also see improvements in conditions for women in Iraq, with widespread approval for women's education and suffrage, but less support for women who want to run for office, travel freely and wear what they want.
These findings are from a survey and focus groups commissioned by NDI that will help Iraq's political parties and government develop policies that are more attuned to what citizens want.  The survey, conducted by the research firm Greenberg Quinlan Rosner, comprised 2,400 face-to-face interviews from Feb. 24 through March 23. It builds on research conducted in October 2010 that focused on the country's process for forming a government and citizens' top issues of concern.
This latest round followed up on those issues and also explored trends in sectarianism and women's rights. The survey found that: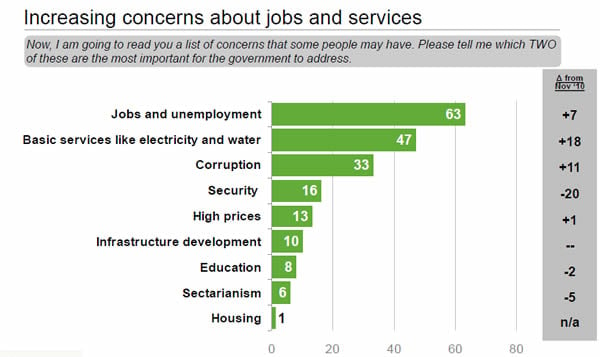 Click on the chart to see it larger
Jobs and the economy remain a major concern. Sixty-three percent think unemployment is a top issue the government needs to address. Fifty-six percent now think the Iraqi economy is weak, up 18 points since the question was asked last fall. Only 38 percent think their personal financial situation will improve in the next year, a 10-point drop since last fall.
Delivery of basic services such as electricity and water are of growing concern. Some 47 percent of Iraqis see service delivery as a primary issue for the government, up 18 points from last fall. Concern about corruption in government is also growing, up 11 points to 33 percent. In contrast, only 16 percent see security as a top issue for the government to address, down 20 points from last fall.
A large majority — 77 percent — sees sectarianism as playing a negative role in their country. A 73 percent majority sees political parties as deepening sectarian divisions and wants them to move away from a sectarian base in the future. Sixty-one percent agree that it would be better for political parties not to be based on sect or ethnicity. However, 65 percent admit that sectarianism has an influence on voting — they are more likely to vote for a party that is primarily identified with their own sect or ethnic group.
Iraqi women enjoy broad acceptance in education, professional life and suffrage, but they have limited freedom in other areas, such as travel and dress. Nine out of 10 Iraqis support women's access to secondary and university education. A near-unanimous 94 percent think women should be allowed to enter highly-skilled professions, such as law or medicine, while 90 percent support a woman's right to vote. However, only 40 percent agree that women should be allowed to travel wherever and whenever they want, and only one-third agree that women should be able to wear whatever clothing they like. In both instances, men disagreed more strongly, but majorities of women also disagreed with these statements.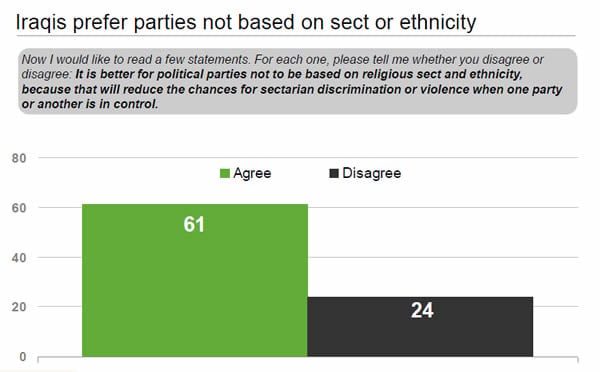 Click on the chart to see it larger
In a series of briefings in Iraq, advisers from NDI and Greenberg Quinlan Rosner met with party and government leaders to present results. Iraqi leaders hope to use the findings to appeal to voters on issues of concern, improve communications and messaging, and consider citizen expectations for government reform efforts.
This is the second round of an ongoing research series used to track Iraqi attitudes over time. Upcoming rounds will revisit many of the top issues covered in previous surveys and add a special focus on constituency outreach and the role of civil society in Iraq.
View the full reports on Iraq's political landscape, sectarianism, and the environment for women.
Related:
Published Aug. 22, 2011