News from NDI: NDI Joins the Nobel Committee in Recognizing the Promise of Democracy in Tunisia
Sign-up to receive NDI's monthly newsletter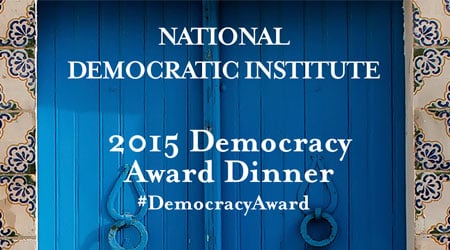 Four Tunisians -- Yassine Brahim, Rafik Halouani, Wafa Makhlouf and Sayida Ounissi -- will receive NDI's 2015 Democracy Award at a dinner on Tuesday, November 10. These Tunisian leaders represent the new government, parliament, national parties and civic society. Together, they embody the spirit of the National Dialogue acknowledged in the award of the Nobel Peace Prize. Read more »
DemWorks Blog | Conflict Transformers: How theater is helping heal ethnic tensions in Kosovo
The importance of art in conflict transformation was evident last month when a group of Kosovar students from ethnic Albanian and Serbian backgrounds came together to participate in a Playback Theater  -- a form of improvisational theater in which actors spontaneously "play back" real stories from an audience. The actors are retelling the history of violence between ethnic Albanians and Serbs in Kosovo in a new way that encourages empathy and healing. Read more »
Haitian Presidential Candidates Address Voters at Debates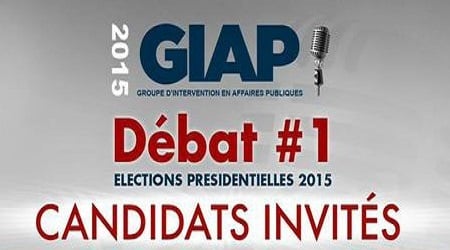 In the closing weeks before Haiti's October 25 elections, presidential candidates made their case to the country's 5.8 million voters. The forum held on October 6 marked the first of six debates to which Haiti's 53 presidential candidates were invited.  
Through these debates, the Haitian public heard directly from candidates on public policy issues rather than relying on messages conveyed through posters and campaign rallies. Read more »
Voter Registration in the Middle East and North Africa: Select Case Studies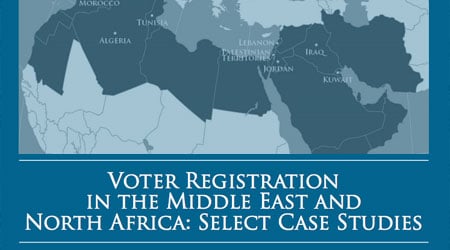 Through a series of case studies and a comparative analysis, a new NDI report explores the voter registration systems in eight Middle East and North African countries or territories: Algeria, Iraq, Jordan, Kuwait, Lebanon, Morocco, the Palestinian territories and Tunisia. Each case study reviews the basic elements of the voter registration process as outlined in a country's laws and regulations, as well as how it is implemented in practice. Read more »
HRC, National Democratic Institute Launch Partnership to Foster Political Inclusion of LGBT People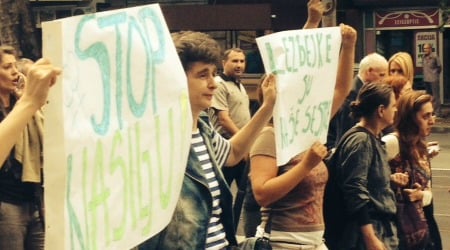 The Human Rights Campaign Foundation and NDI announced a partnership to support LGBT civil society partners around the world. Working together, the two organizations will seek to help LGBT people grow their organizations, advocate for their rights, change hearts and minds, and inspire social change that acknowledges the equal dignity and rights of LGBT people. Read more »
Moroccan CSOs Support Right to Vote of Persons with Disabilities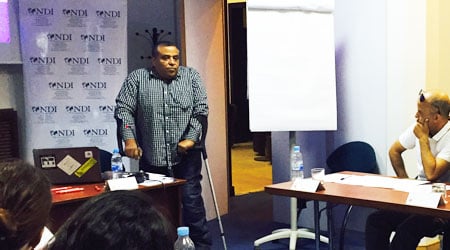 Morocco has taken positive steps to protect the rights of people with disabilities, but significant barriers still exist that limit the equal participation of these citizens in the country's political processes.
The Collective for the Rights of Persons with Disabilities has partnered with NDI to advocate for greater political inclusion of people with disabilities, with a particular focus on the electoral process. Read more »
Ivoirian Comedian Rallies Youth to Become Ambassadors for Peace for the Presidential Election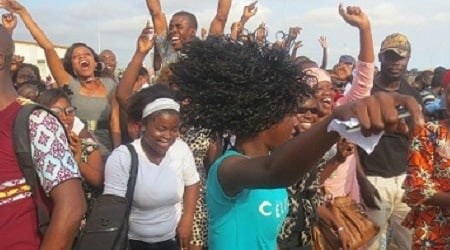 As Côte d'Ivoire prepared for a presidential election on October 25, NDI worked with community-based organizations, representing youth, women and interfaith associations, to conduct peace messaging campaigns in at-risk communities. The campaign was officially launched with the release of a music video and a free concert, headlined by Ivorian comedian Le Magnific, urging Ivoirians to take part in the elections and to exercise tolerance. Read more »
DEMWORKS RECENT BLOG POSTS
DemocracyWorks is a blog written by staff members of the National Democratic Institute.
Donate to NDI!

Help build democratic societies around the world by supporting the work of the National Democratic Institute. Your tax-deductible donation will help bring about a more peaceful, democratic and just world.
The National Democratic Institute is a nonpartisan, nonprofit, nongovernmental organization working to support and strengthen democratic institutions worldwide through citizen participation, openness and accountability in government.