You are here
Overview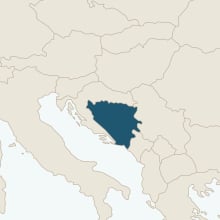 Ethnic divisions have dominated politics in Bosnia and Herzegovina (BiH) since the Dayton Accords ended inter-ethnic war in 1996. The democratic transition has been complicated by many factors, including post-conflict grievances, government corruption, unequal political rights among citizens, and a lack of political consensus on how the country's governing system should be integrated. Citizen concerns with unemployment, a flagging economy, and corruption are often sidelined to protect ethnic and partisan interests, hindering reform efforts needed to advance the country's democratic transition, improve socioeconomic conditions, and achieve benchmarks for European Union membership. Reform constituencies need to bridge ethnic and partisan barriers to use the political, legislative, and electoral process to make change.
Since 1997, NDI has helped political parties organize for elections; support legislatures to engage in lawmaking and constituent representation; and guided civic groups across the country to conduct issue-based advocacy. NDI supports political discourse on socioeconomic and governance reform across ethnic and entity lines. NDI assistance has resulted in the formation of one of the few countrywide civic coalitions, Pod Lupom, which undertook a comprehensive monitoring of 2014 general elections, and applied that experience to advocate for electoral reform. NDI introduced televised candidate debates adapting methodology of the U.S. Commission on Presidential Debates. NDI has helped mainstream political parties engage in policy development and constituency outreach, meeting with thousands of citizens around the country to discuss community concerns. NDI has helped a cross-party, multiethnic group of legislators introduce anti-corruption legislation and pass a whistleblower protection law. 
NDI programs in Bosnia-Herzegovina have been funded by the National Endowment for Democracy and the U.S. Agency for International Development.
Get Involved
NDI's work upholds the idea that democracy is a human right – a principle enshrined in the Universal Declaration of Human Rights. But it's a human right that many around the world still struggle to attain. You can be part of the solution. Join the movement for democracy.