March 2016 | NDI News: #NotTheCost, LGBTI Rights in Serbia, Arabic e-Learning
On March 17, during the 60th Commission on the Status of Women conference in New York City, NDI launched the #NotTheCost campaign to stop violence against women in politics. Activists from around the world discussed personal stories of psychological and physical violence they experienced as a result of their political participation. Despite online harassment, physical intimidation, and death threats, these brave women continue to work to better their communities. Mimoza Kusari-Lila, the first woman mayor of Gjakova, Kosovo, said of the threats she faced: "All these efforts only make me stronger. I know it might frighten many young women from entering politics [but] this is a pattern. We have to win the war to win the peace. You keep throwing stones at me? I will keep paving roads."  
NDI Chairman Madeleine Albright opened the conference. "Freedom is not possible in any society where women who speak out are brutalized, intimidated, or silenced," she said. Albright also published an op-ed on the topic which appeared in CNN International. Madame Sophie Grégoire Trudeau, a women's activist and wife of the Prime Minister of Canada, delivered closing remarks. "Women around the world are raising their voices and it is helping us foster better democracies," said Trudeau.
To learn how you can combat violence against women in politics from Washington to Ouagadougou, download the #NotTheCost Call to Action Plan, read an NDI staffer's reflection on the conference, and watch a video featuring global women's activists who declare that a woman's life should not be the cost of politics.  Join the campaign »
An LGBTI Agent for Change Refuses to Give Up on Serbia
Despite having been attacked and threatened, young LGBTI activist Dragoslava Barzut refuses to leave Serbia as long as she can be an agent for change. Her story reflects the experiences of many LGBTI people in Serbia and the greater Balkan region. "We live in a country that ignores all of these problems, brushes them under the rug and forces you to keep your mouth shut," says Bazut, who is working with other activists and NDI's Ideas Grant to support and protect victims of violence as well as the broader LGBTI community.
Read more »
Facebook and PeaceTech Lab Join NDI at Launch of Arabic-Language e-Learning Platform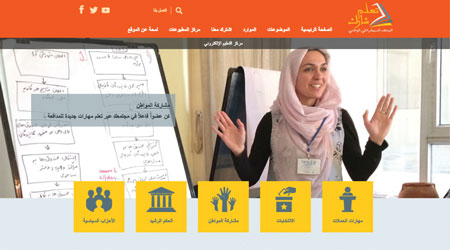 NDI launched its new Arabic-language e-learning and training platform TaalamSharek.org, or "learn-engage" in English. The platform represents a new era in online engagement with and among democracy advocates in the Middle East and North Africa. The platform allows citizens to build their civic and political skills on topics such as campaign planning, elections, citizen participation, governance, and political party development.
​Read more »
Youth Academies Prepare a Generation of Honduran Democratic Leaders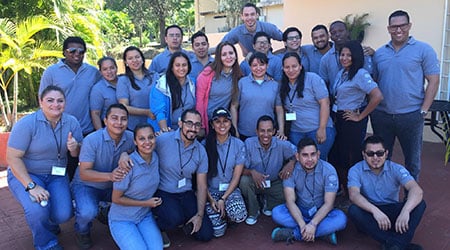 Since 2011, youth from across Honduras have participated in NDI's Youth Leadership Academies. Through lectures and practical exercises, promising young Honduran leaders learned about communication and leadership skills, negotiation tactics for political discussions, democratic values, use of information and communication technologies, conflict resolution, human rights and democratic practices within political institutions. The skills they learned will help them to become leaders within their organizations and reinforce democratic institutions in Honduras. Read more »
With Democracy at Risk in the Balkans, Political Leaders Look in the Mirror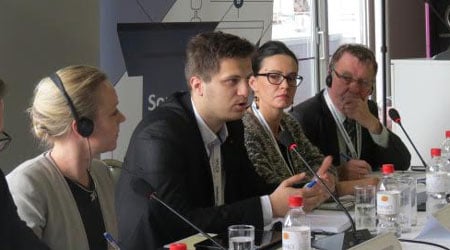 In the face of the current refugee influx, the Eurozone crisis, Russian economic and political influence, and a pre-occupied European Union, political party leaders from nine Balkan countries came together last month to examine their collective responsibility to the citizens they serve. Despite their vast political differences, party leaders left the NDI forum with the shared need to meet their democratic obligations and improve how their respective parties are performing. Read more »
Donate to NDI!

Help build democratic societies around the world by supporting the work of the National Democratic Institute. Your tax-deductible donation will help bring about a more peaceful, democratic and just world.
The National Democratic Institute is a nonpartisan, nonprofit, nongovernmental organization working to support and strengthen democratic institutions worldwide through citizen participation, openness and accountability in government.