You are here
Overview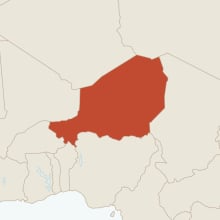 Niger, located in the heart of the Sahel, is rich in uranium and other natural resources, but ranks among the world's poorest countries. Illiteracy is staggering, and women face steep challenges in fully exercising their rights. Parts of Niger have repeatedly experienced conflicts among traditional pastoralist societies, growing urban communities, mining companies, and central authorities. Several violent extremist groups also operate in Niger, taking advantage of the country's poverty and the lack of trust between citizens and the government. Attacks by violent extremist groups have resulted in more than 150,000 internally displaced persons and many refugees from Chad and Nigeria.
NDI has supported Niger's democratization and good governance efforts since the advent of multipartyism in 1991. NDI works in Niger to improve communities' resilience to violent extremism and to help the Nigerien government better understand citizens' concerns, with a particular focus on youth. Working together with local partners, the Institute trains young leaders to engage constructively in their communities and fosters dialogue between young people across the country. To help ensure sustained dialogue, NDI will assist the establishment and training of local citizen Peace Committees. NDI also supports the Nigerien government's High Committee for Peacebuilding in responding to citizen grievances and rebuilding trust between citizens, government agencies, and security forces, strengthening community resilience and pushing back against violent extremism. NDI has also facilitated dialogue among political parties and assisted the democratically elected National Assembly in increasing transparency and accountability in natural resource management.
Get Involved
NDI's work upholds the idea that democracy is a human right – a principle enshrined in the Universal Declaration of Human Rights. But it's a human right that many around the world still struggle to attain. You can be part of the solution. Join the movement for democracy.