News from NDI: 2015 Democracy Award to Honor Four Tunisian Political and Civic Leaders, UN High Commissioner for Refugees
Sign-up to receive NDI's monthly newsletter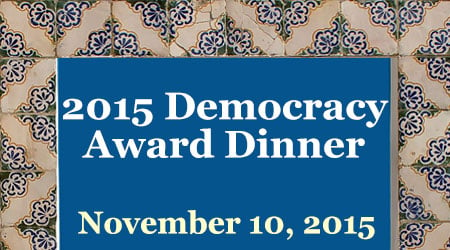 NDI announced today that it will honor four Tunisian political and civic leaders, and the United Nations High Commissioner for Refugees at its annual Democracy Award Dinner on Tuesday, November 10.
The dinner will be held at the Ritz-Carlton Washington, D.C., 1150 22nd St., NW. It will begin at 7:00 p.m. and will be preceded by a reception at 6:00 p.m.
Jordanian Students Compete in Third Annual National Debate Competition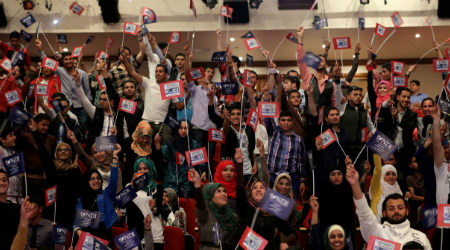 More than 500 university students, deans, professors, government officials and civil society representatives packed into an auditorium at the University of Jordan to watch teams from 16 universities compete in the NDI-sponsored third annual National Student Debate Competition. Read more »
Legislatures and Civil Society Commit to Democratic Openness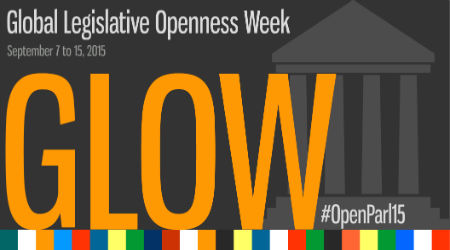 The Global Legislative Openness Week (GLOW) is the second annual week of events organized by members of the legislative openness community to highlight ways to make legislatures more open and accessible. GLOW culminated on International Day of Democracy with the second annual global legislative openness conference, organized by the Parliament of Georgia, the Congress of Chile and NDI, in Tbilisi, Georgia. Read more »
Devex Op-Ed | The Missing SDG Indicators
by Sandra Pepera
As the member states of the United Nations prepared to adopt the Sustainable Development Goals, Sandra Pepera, NDI's director for gender, women and democracy, highlighted three critical indicators that are missing. In her Devex op-ed, Pepera argues that while the new global framework expands significantly on the Millennium Development Goals, it does not go far enough to ensure women's participation in political life and public decision-making.
DEMWORKS RECENT BLOG POSTS
DemocracyWorks is a blog written by staff members of the National Democratic Institute.
Donate to NDI!

Help build democratic societies around the world by supporting the work of the National Democratic Institute. Your tax-deductible donation will help bring about a more peaceful, democratic and just world.
The National Democratic Institute is a nonpartisan, nonprofit, nongovernmental organization working to support and strengthen democratic institutions worldwide through citizen participation, openness and accountability in government.